What's a holiday without good food? And what's a good meal without great dessert?
To ensure you've always got something special to offer your guests after dinner, stock up on our Auchentoshan whiskies that come with our special, limited Auchentoshan-infused chocolates.
Our chocolates are painstakingly made and supplied by our Master Baker, so you know that it packs a punch in the ABV and tastes yummy!
Only available during this holiday season, here are our Auchentoshan whisky and chocolate packages: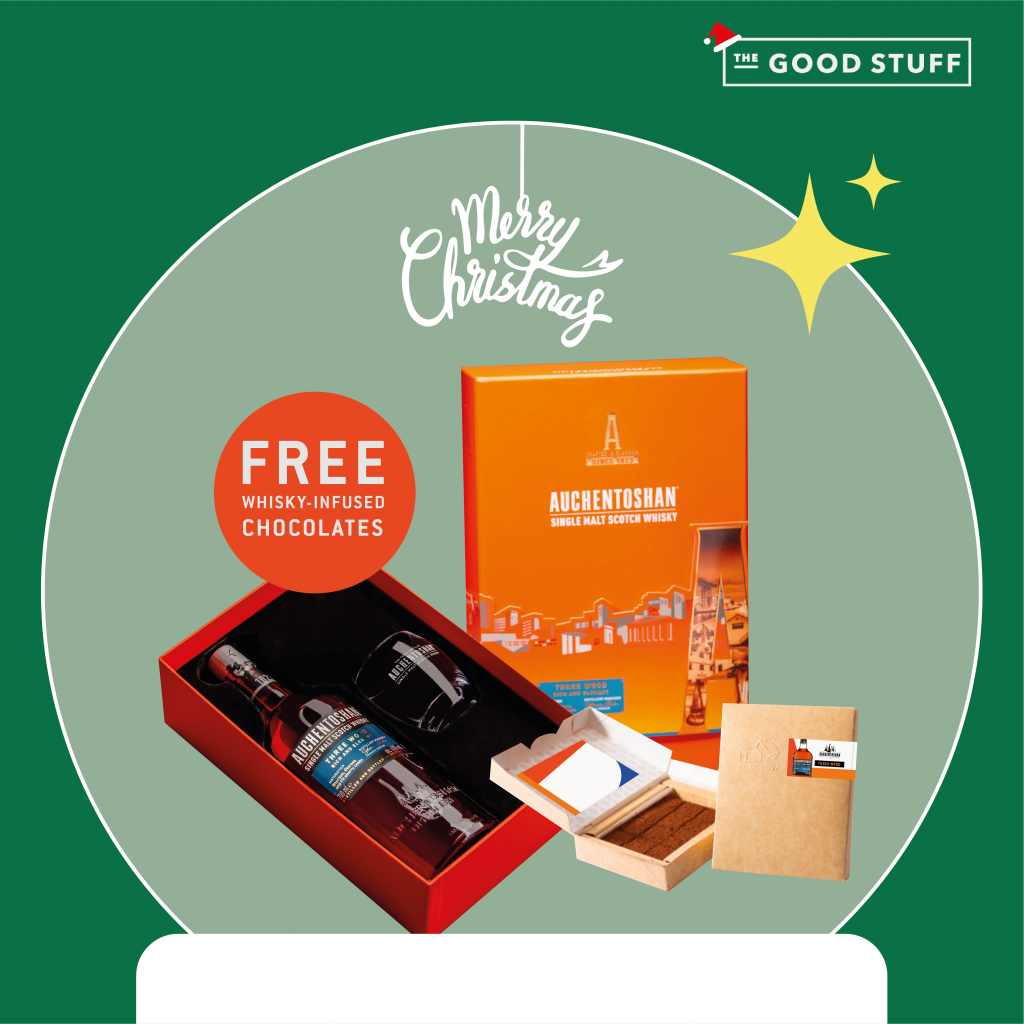 This award-winning Auchentoshan Single Malt Scotch Whisky has been matured in three different cask types.
From American Bourbon to Spanish Oloroso Sherry – and then, finally, Pedro Ximenez Sherry casks – this a rich, complex whisky with toffee and sherry flavours. Three Wood makes a cracking Auchentoshan & Ale, a mean Old Fashioned and a damn fine dram in its own right.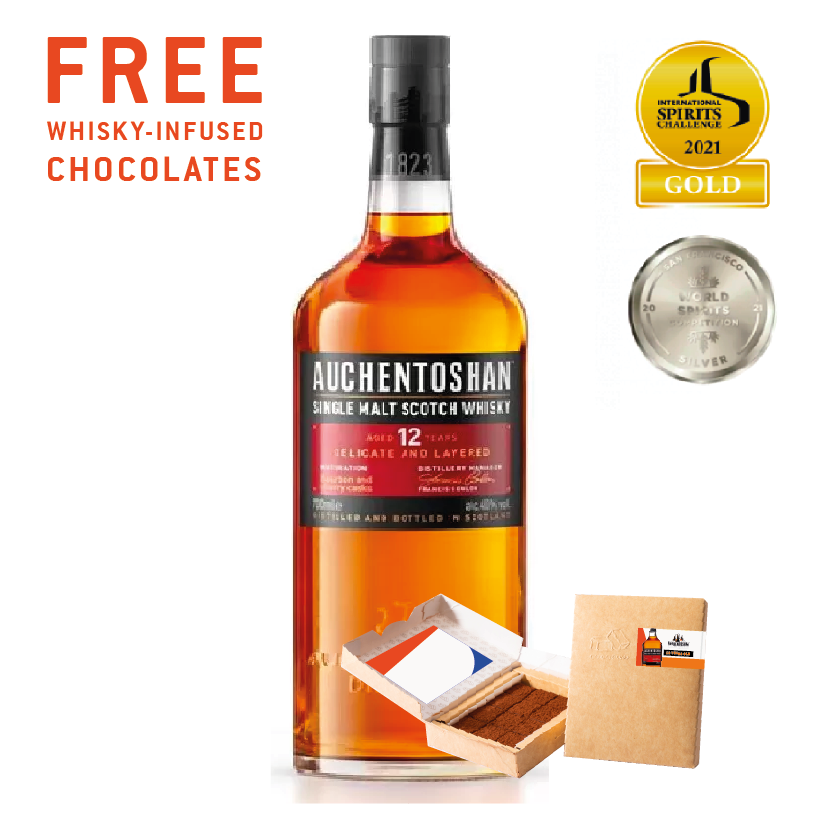 Every last drop of this spectacular Scotch is triple distilled then matured for over twelve years. Our Lowland Single Malt Whisky has the tempting aroma of toasted almonds, caramelised toffee and the signature smooth delicate Auchentoshan taste. An intriguing 12 year old whisky that's Distilled Different.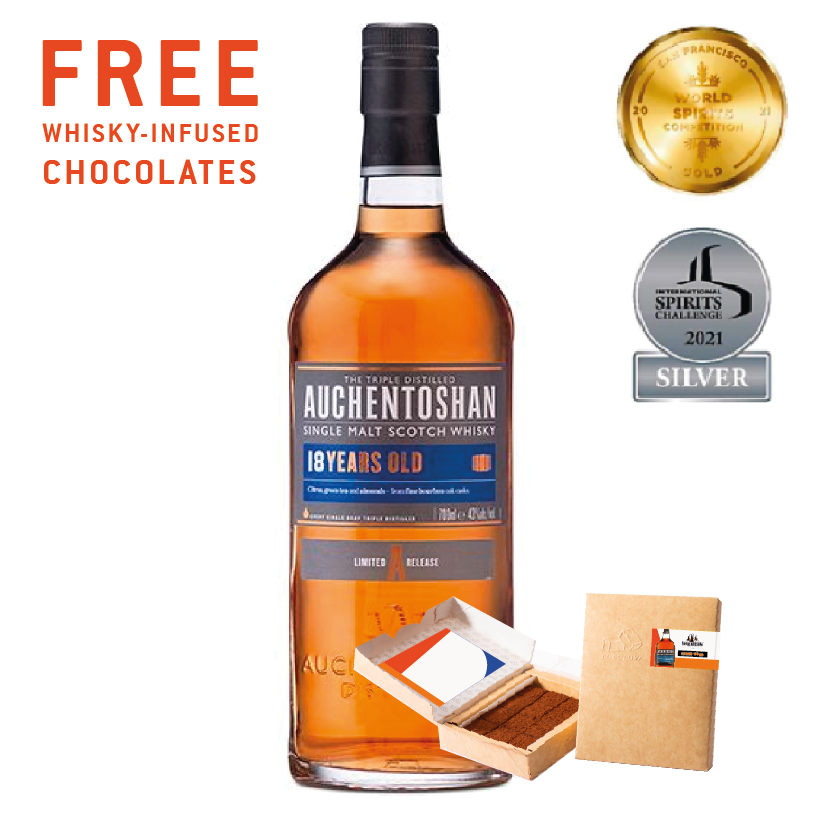 Triple distilled then matured for over eighteen years for a refined whisky. The result: a refreshing Lowland Single Malt whisky with the added infusion of ripe citrus and green tea, the warmth of toasted almonds and the signature smooth, delicate Auchentoshan taste.
Expect a deep golden summer barley colour to each glass of this Single Malt. What gives whisky its colour? Our careful and methodical maturing process over the course of 18 years. As the Single Malt comes into contact with the barrel, a new colour and flavour profile is created over time.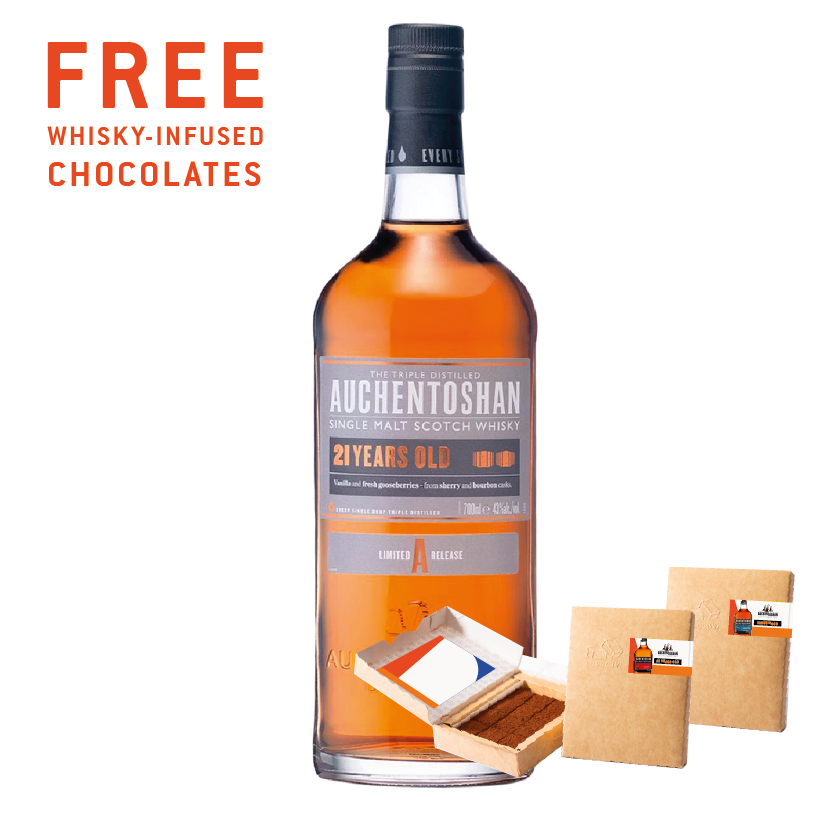 Triple distilled and aged perfectly for over twenty one years in American bourbon and Spanish sherry casks. This creates a refined Lowland Single Malt whisky, ripe with gooseberries, sweet creamy vanilla, a hint of oak, warm honey and the signature smooth, delicate taste you would expect from Auchentoshan. An impressive 21 year old Single Malt Scotch whisky that's Distilled Different.
Hurry up and get our Auchentoshan-infused chocolates with any of these packages now while stocks last! We deliver on the same day for customers in the Klang Valley.
For more X'mas alcohol gift ideas, click here. Or head over to The Good Stuff for everything alcohol!
READ OTHER JOURNALS